The North Carolina Translational and Clinical Sciences Institute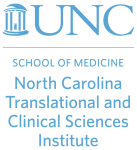 NC TraCS, the integrated home of the Clinical and Translational Science Awards (CTSA) program at UNC-CH, is supported through the National Institutes of Health (NIH), grant 1UL1TR001111. The CTSA program is led by the NIH's National Center for Advancing Translational Sciences (NCATS).
The NC TraCS Institute is one of 62 CTSA medical research institutions, a national consortium to improve the way biomedical research is conducted across the country.
As of 2013, NC TraCS combines the research strengths, resources and opportunities of the University of North Carolina at Chapel Hill (UNC), its new partner RTI International (RTI) and planning partner North Carolina Agricultural and Technical State University (N.C. A&T) to accelerate clinical and translational research from health science discovery to dissemination to patients and communities. NC TraCS seeks to overcome barriers to translation by improving efficiency, training the research workforce and sharing successful, validated research methods.
The Cecil G. Sheps Center for Health Services Research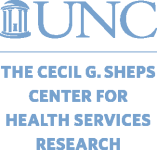 The  Sheps Center is a unit of the University of North Carolina Division of Health Affairs. The Center's director reports to the Vice Chancellor for Research. Oversight responsibility of the Center is vested in a Policy Board whose members include senior faculty and administrators from the five health science schools, departments from the Division of Academic Affairs, as well as representatives of the health services community at large.
The director receives assistance in planning and leading the Center's activities from five deputy directors, and from program directors responsible for specific substantive areas of research.