Patient Empowered Strategy to Reduce Asthma Morbidity in Highly Impacted Populations (PESRAMHIP)
UNC Principal Investigator: Tamera Coyne-Beasley, MD, MPH
Project Budget: $13,857,788 over 5 years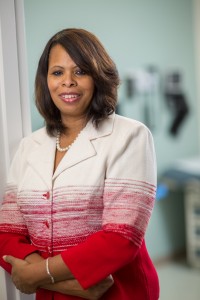 The North Carolina Network Consortium (NCNC), a consortium of practice based research networks in NC in partnership with NC TraCS and the Sheps Center, is participating in a large, pragmatic clinical trial – Patient Empowered Strategy to Reduce Asthma Morbidity in Highly Impacted Populations – recently funded by the Patient Centered Outcomes Research Institute (PCORI). The project is led by Harvard University, Elliot Israel, MD, Principal Investigator (PI). Dr. Tamera Coyne-Beasley, the UNC site PI, is a UNC Professor of Pediatrics and Internal Medicine and Director of two networks within NCNC. Dr. Coyne-Beasley and her staff will work with Harvard, the American Academy of Family Physicians National Research Network and thirteen other clinical research sites to conduct this research.Dr. Coyne-Beasley will also lead the Professional Society Advisory Board for the PCORI project.
Asthma affects over 25 million people in the US and costs $56 billion each year. National asthma practice guidelines call for daily use of an inhaled corticosteroid (ICS) to control and reduce exacerbations, but adherence is generally <25%. Use of ICS on a symptom-triggered approach, called Patient-Activated Reliever-Triggered ICS (PARTICS), in carefully controlled trials reduced asthma attacks by 25%-50%. This study will examine whether such results are achievable in a real-world setting among high-risk populations. The PARTICS approach is this: whenever a patient uses an asthma reliever medication, he or she will also use an ICS.
The study will recruit a total of 1,200 African-American and Hispanic/Latino participants age 18 years or older with asthma who are using an ICS or who have had an exacerbation in the past year. Participants will be randomized to PARTICS added to provider educated care or to continue provider educated care only, and will be followed for 15 months. Outcomes will be identified via monthly patient-completed questionnaires and EHR data. Dr. Tamera Coyne-Beasley and NCNC staff will recruit, track, and implement the intervention for patients enrolled in this study for the UNC site. If the results track with previous controlled trials, asthma treatment approaches for millions of people could be changed.
PCORI is an independent non-profit organization authorized by Congress in 2010. Its mission is to fund research that will provide patients, their caregivers and clinicians with the evidence-based information needed to make better-informed health care decisions.