NCNC congratulates Kent Sutton for successfully presenting a poster, "Addressing hypertension in rural primary care: Implementing system-level change using a key driver framework", at the 12th Annual Conference on the Science of Dissemination and Implementation in Health. The conference was held in Arlington, Virginia from Dec 4-6, 2019.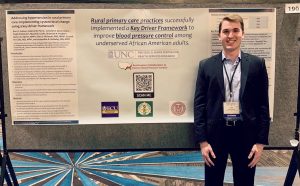 Kent is a research assistant for the Southeastern Collaboration to Improve Blood Pressure Control study, a multi-site clinical trial to test practice facilitation and peer coaching as methods to manage hypertension among underserved African Americans in rural areas of NC and AL. The UNC team is led by NCNC Co-Director Jacquie Halladay, MD, MPH.
The poster highlighted the practice facilitation intervention of the study and over the past several months Kent had analyzed data from the reports of the study's practice facilitators. The poster presentation shared the team's findings on the most successful quality improvement activities that practices implemented to improve blood pressure control among their patients. The activities were derived from the four domains of a Key Driver Framework, which was designed to allow practices the flexibility to discern which activities would most benefit their specific patient populations.
We are especially excited that Kent's poster tested out a new poster design that is becoming increasingly popular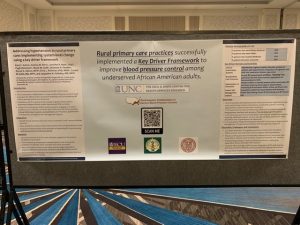 for academic posters. This new poster design was featured in an article by NPR earlier this year: "To Save The Science Poster, Researchers Want To Kill It And Start Over". Rather than fill the entire poster with verbiage, Kent's poster included a main headline in the center to quickly communicate the poster's central message: Rural primary care practices successfully implemented a Key Driver Framework to improve blood pressure control among underserved African American adults. Many conference attendees expressed excitement about the innovative design of Kent's poster, and the poster also featured a QR code, which allowed attendees to quickly retrieve a copy of the poster's abstract electronically.