September 28, 2015
UNC Part of Collaborative Receiving Large Award to Reduce Health Disparities in Rural South
Researchers from the University of North Carolina School of Medicine and the Cecil G. Sheps Center for Health Services Research, in partnership with researchers from the University of Alabama at Birmingham (UAB) and East Carolina University, were awarded more than $9 million to study ways to improve blood pressure in the rural south.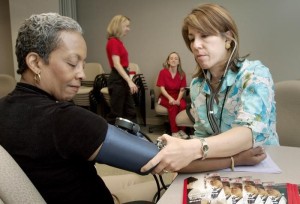 CHAPEL HILL, N.C. – Researchers have received a boost to evaluate efforts to reduce health disparities related to uncontrolled high blood pressure among African Americans and low-income and rural individuals. The project, titled "Collaboration to Improve Blood Pressure in the U.S. Black Belt – Addressing the Triple Threat," will rigorously compare two different strategies designed to improve blood pressure control in primary care practices serving Southeastern African-Americans with low socio-economic status. Developed in response to a call for proposals focusing on hypertension among the "Triple Threat" population, the highly-competitive $9.4 million grant will be conducted by investigators from the University of North Carolina (UNC) in collaboration with the University of Alabama at Birmingham (UAB) and East Carolina University (ECU).UAB is leading the effort.
The term "Black Belt" refers to the arc-shaped region stretching from eastern Texas to Maryland. The "Triple Threat" risk factors consist of rural residency, minority ethnicity, and low socio-economic status. Black Belt residents and those characterized by the Triple Threat are among those at the highest risk for poor health outcomes in the United States.
Minorities, low-income individuals, and those living in rural areas suffer more than others from health problems associated with uncontrolled hypertension. For example, African Americans are nearly twice as likely to die from preventable heart disease and stroke as Caucasians. Rural residents are more likely to be diagnosed with heart disease than urban dwellers.
Previous studies have rarely targeted these high-risk populations exclusively and have not fully engaged patients and clinicians in the design and conduct of studies designed to address this problem – steps that may be crucial to achieving real gains in outcomes.
The two strategies that will be used in this trial are practice facilitation and peer coaching. Both strategies are known to be effective. Practice facilitation is a customized approach that helps medical practices develop, though a series of stages, structural changes to enhance the quality of care and patient and staff satisfaction. Peer coaching, on the other hand, addresses the engrained mistrust of health care systems common across Black Belt communities. Through peer coaches, patients learn to build positive relationships with their health care providers.
The trial aims to:
Engage rural primary care practices, hypertension patients, peer coaches and community advisory boards in Alabama and North Carolina to collaboratively finalize a practice facilitation intervention and a peer coaching intervention.
Create the data systems for the trial.
Enroll 80 practices and 25 African-American patients with hypertension at each practice.
Establish scalability of the intervention throughout the entire Black Belt region using extensive process data intended to facilitate future implementation across a wide variety of practices.
According to UNC Associate Professor of Family Medicine Anthony Viera, MD MPH, who is a co-principal investigator for the study, one of the goals of this trial is to provide patients with a better understanding of how to lead a healthy life. "High blood pressure is the leading risk factor for strokes and heart disease. African-Americans are particularly vulnerable to hypertension and its consequences." Co-investigators from UNC are Jacquie Halladay, Associate Professor of Family Medicine and Crystal Cene, Assistant Professor of Medicine.
Researchers will use a variety of approaches to measure the effectiveness of these programs, including random audits, workbooks, and cellphone applications. Together with UAB and ECU, UNC will work with 2000 patients from 80 practices throughout North Carolina and Alabama, testing strategies to improve blood pressure control. The project was conceived in its earliest stages with community partners. Although the studies will be administered through the National Heart, Lung and Blood Institute with involvement of the National Institute for Neurologic Disorders and Stroke, the funds to support the projects are provided by PCORI.
"Controlling blood pressure is one of the most important clinical preventive services for saving lives," adds Dr. Viera. "We are excited to begin this collaboration with UAB and ECU, working to improve the health of a particularly vulnerable population of patients."
Media contacts:
Donna Parker, SOM, 919-843-4760, donna_parker@med.unc.edu
Madeline Mitchell, 919-966-6074 madeline_mitchell@unc.edu